Call for Presentations
The 2023 AFCEA Mid-America Cyberspace Conference Planning Committee welcomes the submission of presentations to speak as a general session, panel, breakout, or lighting round participant.

The Call for Presentations is now closed.

Who Should Submit
If you are a government, military, industry, or academia thought leader developing practical solutions to challengers as it relates to the cyber mission, then please consider submitting a proposal to present at the 2023 conference.
Examples of topics of interest are:
Artificial Intelligence (AI) & Machine Learning (ML)
Big Data, Data Analytics, and Visualization
Cyber Physical System Security and Testing
Cyber and Spectrum Warfare considerations with 5G/6G
Internet of Things (IoT) and Operational Technology (OT) cybersecurity
Using Generative AI (i.e., ChatGPT) to safely accelerate cybersecurity
Leveraging AI to improve Cybersecurity for government agencies
Mission Resilience
Secure Access Service Edge (SASE)
Systems Engineering and Robust Architecture
System Survivability
Automation tools for cybersecurity vulnerability remediation
Zero Trust

Participation Options
Breakout Session:
Submissions for Track talks should specify an alignment under one of the themes listed above (Approximate length of the session, 45 minutes).
Breakout sessions should not be a promotion of a product or a business. Submissions considered a sales pitch will not be accepted as a breakout.
General Session:
Speakers selected as a general session speaker will address the attendees in the general plenary session (Approximate length of the session, 45 minutes).
Panel:
Submit a proposed panel topic, along with panelists.
Submit to be a subject matter expert as part of an established panel.

Important Dates
07.01.2023 - Call for Presentations Closes
07.14.2023 - Notification of Accepted Presentations
07.21.2023 - Accepted Presenters Confirm Participation
09.01.2023 - Presenter Information Due
09.08.2023 - Presentation Slides/PowerPoint Due

Questions?
Katie Erpenbach
Speaker Manager
703-740-1970
KErpenbach@eventPower.com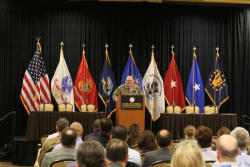 CONFERENCE DETAILS
Dates
September 13-14, 2023

Location
Regency Conference Center
O'Fallon, IL

Register

SIGN UP FOR CONFERENCE UPDATES