Conference Registration
Early-Bird Rate
until 8/31

Standard Rate
until 9/12

Onsite Rate

Military / Govt Non-AFCEA Member

Register Now


$325

$375

$400

Military / Govt AFCEA Member

$275

$325

$350

Industry Non-AFCEA Member

$525

$575

$600

Industry AFCEA Member

$425

$475

$500
Registration Add-Ons
Cyber Career Fair | Wednesday, September 13, 2023
We are thrilled to announce we are partnering with ClearedJobs.Net to present the Cyber Career Fair at the 2023 AFCEA Mid-America Cyberspace Conference. The Cyber Career Fair is a hiring event for cleared and non-cleared cybersecurity professionals as well as college-level students in a cyber security degree program. Visit the Cyber Career Fair page for more detailed information.

Group Registration
We offer the opportunity for training groups to pay to secure a block of registrations. If you are interested in registering a group, please contact Crystal Madison at cmadison@eventpower.com. Below is a list of training groups who have used this benefit in the past:

AMC
DISA GLOBAL
375 CS
DISA TRANSCOM
CCC
SDDC
USTC J3
16AF
USTRANSCOM
USTC J6

Cancellation Policy
If you find it necessary to cancel your registration, you must submit your request via email to: afceamidamerica@eventPower.com. You will receive a confirmation email and your registration fee will be refunded if the request is submitted by August 11, 2023.

Cancellation requests received after August 11, 2023 may result in forfeiture of your attendance fee. If you are Military and have orders to deploy or other extenuating circumstances you may be eligible for a refund. Requests will be handled on a case by case basis.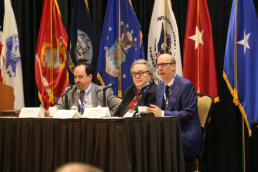 CONFERENCE DETAILS
Dates
September 13-14, 2023

Location
Regency Conference Center
O'Fallon, IL

SIGN UP FOR CONFERENCE UPDATES